Crystalline MkI: Single D20
Regular price
Sale price
$50.00 USD
Unit price
per
1 in stock - product will ship in 1-2 business days.
Inspired Design
Spelunking in caves never looked so good as with this gorgeous dice. Featuring a unique crystal-inspired shape, the design is ideal for everything from magic-heavy environments to more grounded dungeon crawling. Whether put in the hands of a rare subterranean cleric or a more traditional dwarf, this will undoubtedly bring destructive beauty to any table!

Dice Information
Dice is made out of Bronze, and is designed to match the dimensions of a standard 22mm D20.
WARNING: This dice is a good bit sharper than a typical D20. Please roll on a surface that you are alright damaging, as it will leave pits in wood and leather surfaces. I have had great success with mouse pads, but typically use a cheap leatherette rolling tray that I don't mind damaging.
Engineered to Perfection
At Summit Dice, we strive to provide the peak gaming experience. Nobody likes dice that perform poorly, and we ensure that each design is perfectly balanced before beginning manufacturing. Due to manufacturing variables, each dice can develop slight character differences from what was originally intended, but we've done extensive testing on each design across many dice to ensure that these variations will not impact dragon slaying potential due to extra time in the jail. Change is scary, but we promise that each of our dice is far more random than standard plastic polyhedral sets that are ubiquitous in the RPG scene.
Share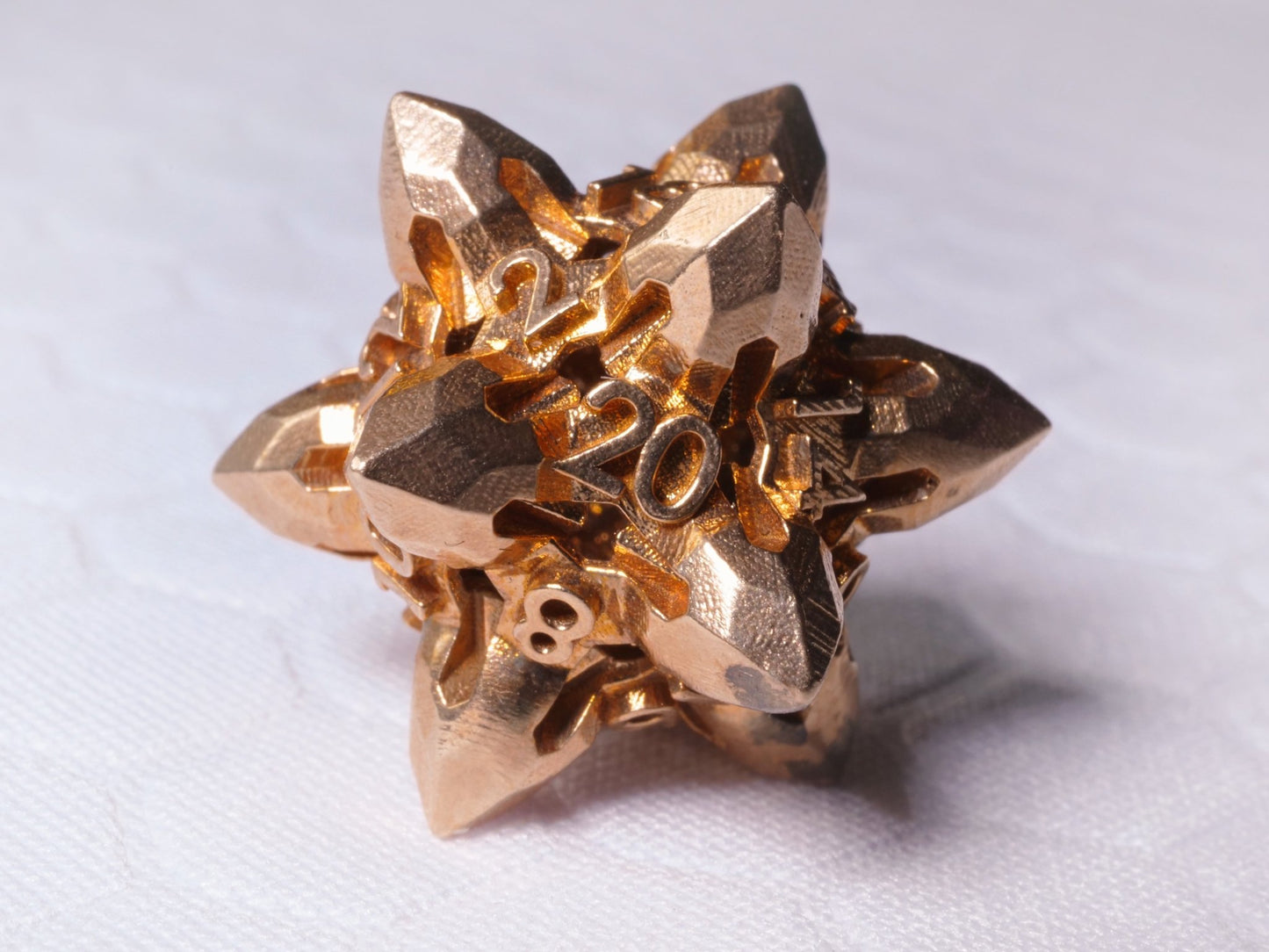 Great Wedding Present
I bought two of these for my brothers as gifts for ushering my wedding. I think I personally like the shined versions but the version with the patina allowed the numbers to be more easily seen. They're a little smaller than I initially thought but honestly if they were any heavier they might do damage to a wooden table. Very cool dice, cool website, and excellent customer service, they got back to me right away!
Amazing quality! Rolls great!
I absolutely love this die! It has such a unique shape and design totally unlike any other d20 I've ever seen. I thought that because of its unusual shape it wouldn't roll very well, but it rolls better than most of my plastic dice. As mentioned in the other comments, it is a bit smaller than most d20s, but lets be honest you're not buying this d20 because of the ways its similar to other d20s, you're buying it because its different and cool! I'd put this die up against any other d20 I've seen, though some of the dice on Summit's Kickstarter might give it a run for its money!
A Quality Job
After purchasing I received my dice very quickly and in proper packaging. I have to say, the quality is clearly here. Crisp and defined edges with no roughness, looks exactly as shown in the advertised images. I also emailed beforehand to see if there would be any shipping delay and got a near immediate response. Ultimately, what more can you ask for? The only thing I will point out is that they are ever so slightly smaller than a modern d20 by my eye. I highly suspect most won't notice this without directly comparing them to their standard d20s. This, however, does not have any material impact on the usability, beauty, and craftsmanship of the dice.
Stunning!
The die came in quite quickly, and far exceeded my expectations! I am in love with it and will always be using it for every game session :)
Fantastic!
I got this in silver and the design is amazing. I love this d20. As someone said before me, the numbers are a bit hard to read, but honestly I don't even care.
Rolling the die is very satisfying, but you'll need something between leather and cloth in terms of smoothness to get a good roll. It bounces back off thicker leather. Thin suede is probably best or canvas.
All in all a fantastic die. I will be ordering others when... Finances permit